start as a DSD reseller
MAGIX is known for its user-friendly multimedia software. MAGIX offers various software packages for creating, designing, presenting, and archiving photos, websites, videos, and music. Beginners and professionals alike can use MAGIX thanks to its user-friendly interface.
Want to know more about Magix or start with purchasing?
MAGIX Software
MAGIX has more than 15 million registered users worldwide, which is not without reason. MAGIX's wide range of products ensures that there is something for everyone: from beginner to professional.
Automatically renew software licenses with the Renewal Tool
Automatic 24/7 software license renewal
Extensive range of 25+ software brands
Advice and support from our software specialists
MAGIX Web Designer
MAGIX Web Designer is the software that allows everyone to design their own website. Use one of the 35 website templates and more than 500 design elements. Thanks to MAGIX Web Designer, users can easily create their own website without any knowledge of programming languages.
MAGIX Photo & Graphic Designer
MAGIX Photo & Graphic Designer is ideal for novice designers. Edit photos, create illustrations, design logos, create symbols, and create sketches. MAGIX Photo & Graphic Designer is a user-friendly design program with various useful features such as the Designs Gallery, Magic Snap, and the Photo Editor.
MAGIX Music Maker
MAGIX Music Maker is the music program for both professionals and amateurs. MAGIX Music Maker offers more instruments and more functions than any other music editing program. Music Maker's simple music composition, custom audio software, and recording capabilities are ideal for anyone who likes to create their own music.
MAGIX Video Easy
Thanks to MAGIX Video Easy, users create fantastic videos that can be shared directly with friends and family. The intuitive software and interface, as well as the user-friendly help, ensure that images are processed quickly and efficiently into a beautiful video. Edit videos with text, special effects, background music, or add your own effects.
MAGIX Photostory
MAGIX Photostory brings the best memories to life. The clear and easy user interface and the unique assistant simplify design, sound editing, and automatic photo optimization. The Special Effects, animations and decoration elements offered by MAGIX give the user even more possibilities.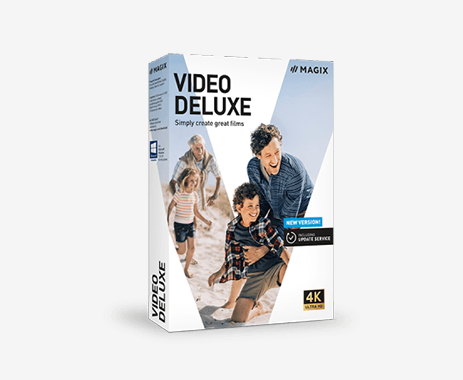 MAGIX Video Deluxe
MAGIX Video Deluxe is ideal for anyone who wants to start video editing. Practical Storyboard mode and automatic image and sound optimization allow users to create a professional video in a short time.
MAGIX Audio Cleaning Lab
MAGIX Audio Cleaning Lab is a great tool that allows users to digitize, restore, and edit music. The software solution from MAGIX offers various comprehensive functionalities that improve, clean and store the quality of the sound. The ideal package for every music maker who likes to work fast and efficiently.
MAGIX Fastcut
MAGIX Fastcut turns recordings by video cameras, smartphones, and tablets into action-packed videos. MAGIX automatic video editing is ideal for quickly creating a video that meets the user's needs. The dynamic templates, in various lengths and including music, allow users to adapt and edit the material quickly and efficiently.
MAGIX Game Control
Creating an optimal experience for gamers - that's what MAGIX Game Control does. MAGIX Game Control is a tool for gamers. Benchmarking, monitoring, booster and screen capture; all tools for an optimal gaming experience. System features are monitored live for best performance.
VEGAS Movie Studio
VEGAS Movie Studio is powerful and intuitive and the ideal video editing software for anyone who wants to shoot a beautiful video without having much experience in video editing. The optimized software will cause little or no delay on the PC.